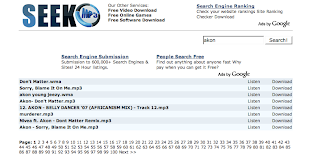 Downloading torrents of cds is nice, but sometimes there is literally one song from a cd you want. Sure you could download a program like Limewire, but who wants to go to that trouble when you could just use your web browser.
There are a few websites out there that allow you to type in a song name and download directly through the browser. For this tutorial I am going to use SeekMP3:
Type in the song you want to download
A list of the matches will come up.
Right click on the "Download" button of the song you want and select "save link as":
It will default to "download.php" change this filename to the filename listed in the left hand column (see picture below)
***MAKE SURE YOU CHANGE THE EXTENSION FROM .PHP TO THE CORRECT MEDIA EXTENSION (.MP3, .WMA, ETC)***
Your file will download to your desktop and from there you can drag it into your favorite music playing program!