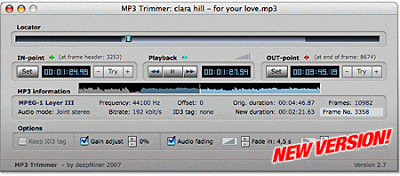 Since I posted how to convert Youtube videos to MP3's yesterday I thought today I would post the software I use to trim down MP3's to just the parts that I want (a lot of you tube videos have unnecessary chatter or blank noise at the beginning).
From their website:
" As easy as 1-2-3!
1:    Drop your MP3 on MP3 Trimmer    2:    Choose trimpoints     3:    Save as a new file!

  The new file will have exactly the same audio quality as the original!  

But wait… there's MUCH MORE!
  You can even add smooth   fade-ins  /   outs    to your new file, or change the over all <b>gain</b>.   Y    ou can      join songs      together,      divide      them,      repair      broken MP3s or simply      analyze      them frame by frame. MP3 Trimmer also features powerful     batch processing     to automate editing/repair on large amounts of files."

Although you have to pay for the software, it's well worth the $10.95 because it is so easy to use.