I'll admit it, I'm addicted to Twitter. The only thing that I have found that I don't like about Twitter is the inability to receive updates, either via email or SMS, for all of your @replies; I fix things I don't like.
I've used a combination of Yahoo pipes and a free service, notify.me, to receive all of my @replies via SMS. A few notes about my method:
You can configure your updates to come as any combination of the following: SMS, email or IM. This tutorial focuses on SMS.
Since we're using Yahoo pipes to create the RSS feed of all the @replies there is a bit of lag between the actual Twitter @ reply and the notification.
The Yahoo pipe that we are using catches all @replies, not just ones that start with @reply ie: "great link from @jennykortina"
To receive all of your Twitter @replies via SMS:<ol>
Head over to this Yahoo Pipe
Enter your Twitter username in the field and click the "Run Pipe" button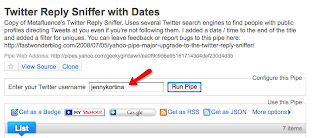 After the pipe is done running, click the "Get as RSS" button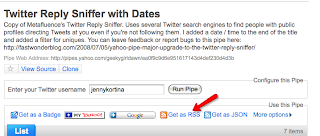 A new window will be loaded with your RSS feed. Copy the RSS link from the navigation bar
Head over to notify.me and register for a new account
Configure each notification method that you would like to use: SMS, Email, and IM
Click the "Sources" tab
Paste your Yahoo Pipe RSS feed from step 4 into feed box and click the "Add Feed" button

The field will appear in the blue box below the "Add Feed" section. Click on the buttons for the type of notifications you would like to receive. In my case, I only have SMS selected.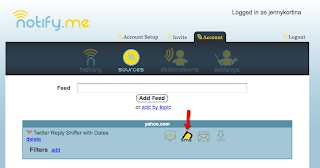 </ol>
You now will get all of your Twitter @ replies as SMS messages to your phone. Like I said earlier, there is a slight delay between the time the actual @ reply message is posted and when you get the SMS, but it's worth the wait!
</a>