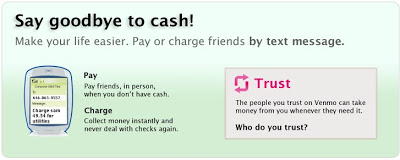 I recently started using a service called Venmo which is "The Paypal of text message payments." I can pay and charge friends or merchants for goods/services. It's definitely one of those services a la cell phone esque. If you don't have it you don't know what you are missing, but once you have it there's no going back. Below I've listed some simple use cases to try to illustrate the power of the service:
Paying others - Splitting a lunch bill:
When I'm out to lunch w/friends, one person pays the bill and the rest of us text that person.
"Pay Jenny $21.37 for lunch."
Jenny receives $21.37 for the bill from all of her friends. It's great b/c it eliminates the friend who says "I'll hit you later" and then never hits you later. It also eliminates the need for everyone to have cash
Paying others - Cashing in/out of poker night:
When we do poker night, one person is the "pot" and we all send them buy in money.
"Pay Brad $20 for poker buy in." At the end of the night cashing out is super simple, no dealing w/breaking of bills or coins. "Pay Jenny $11.41 for poker winnings."
In this case Brad is the pot. At the beginning of the night we all send him money, then at the end of the night he sends out the winnings.
Charging others - picking up laundry
When I pick up my brother's laundry I charge him for it. The money is taken directly out of his account b/c he "trusts" me.
"Charge Andrew $13.75 for laundry."
$13.75 comes into my account
These are just a few use cases of how to use text message payments to make your life easier. If you would like to try Venmo, which is in beta, to text message payments please email me and I'm friends with the guys who made it, so I can shoot you an invite.
In the comments, tell me how you use text message payments to make your life easier.