Google Analytics is probably the most essential tool for anyone running a webservice, blog, or other online property that wants to grow traffic and understand existing traffic.
I've been searching for quite some time for a good way to access Google Analytics from the iPhone, have tried a few apps that just didn't cut it, but found yesterday (via @brit) an app that actually works.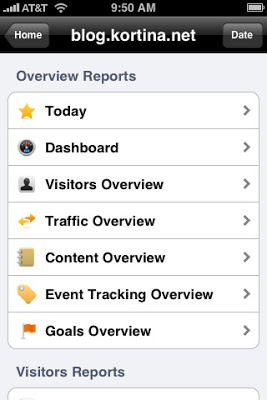 The Analytics App gives you access to all your different sites in Google Analytics, so it's perfect if you manage many different accounts like I do. Plus, it has all your favorite analytics reports:
_ Dashboard Summaries
_ Length of Visit
_ Browsers and OS
_ Referring Sites
_ Keywords
_ Adwords Campaigns
_ Content Reports
_ Top Landing Pages
_ Top Exit Pages
_ Custom Event Tracking
* Plus, pretty much every other report from Google Analytics
You can view reports by date range, too. I've found it most useful to set the Date range to the Past Day to get a quick summary of what's happening on my sites right now.
I'm loving this app. Check it out at: http://bit.ly/iphoneGAnalytics