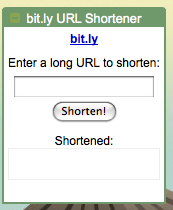 URL shorteners are a useful tool when sending emails. Not only are long links unsightly, they often break inside email clients becoming useless. I use Gmail for my email client and was delighted to see that bit.ly introduced an application that provides a URL shortener right inside Gmail.
To install bit.ly's URL shortener:
Go to Settings > Labs
Scroll down to the very bottom and click the radio button to enable " Add any gadget by URL"
Click "Save Changes" at the bottom of the page
You should now have a gadgets tab at the top of the settings page. Click it.
In the " Add a gadget by its URL:" box paste this link: http://hosting.gmodules.com/ig/gadgets/file/107368512201818821991/bitly-shortener.xml
Congratulations you now have a URL shortener application right inside Gmail!